Recorders
Sony J30 player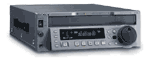 The compact design makes the J-30 ideal for personal, desk-top use. It has all the features required for viewing, logging and feeding material to a non-linear editing system. The J-30 Compact Player can replay Digital Betacam, MPEG IMX, Betacam SX, Betacam SP and Betacam tapes and has i-Link, analogue composite and component, S-VHS and analogue audio outputs.

---
DVW M2000p Studio recorder player

The DVW M2000P is the most fully-featured VTR in the Digital Betacam line-up. It records and replays component digital video using small and large Digital Betacam cassettes. The DVW M2000P can also replay Betacam SX, IMX and Betacam SP cassettes, allowing analogue material to be easily replayed into digital systems.

The robust construction of the DVW M2000P, it's 4 channels of 20 bit digital audio and it's high quality video output have also made it a firm favourite for linear "on-air" playout.