Cameras
Sony HDW-750P
The HDW-750P from Sony is a camcorder that destroys any outdated notions about high definition as a bulky, inflexible, prohibitively expensive choice for quality programme making. The compact new HDW-750P puts all the advantages of shooting High Definition at 25P/50i into the hands of the cinematographer, maximising creative opportunities and control without sacrificing portability or battery life.

It is an extremely compact and lightweight design, with a robust and reliable construction. Adopting a 2.2 million-pixel FIT CCD, and Advanced Digital Signal Processing (ADSP), the HDW-750P ensures superb picture quality and low-power consumption. The HDW-750P directly provides HD-SDI as standard, while an optional down converter allows simultaneous direct output of SD, SDI or analogue composite. Camera setup data can be stored in a "Memory Stick". An optional picture cache board can capture pictures and sound in advance of pressing the record button.
---
Panasonic HDX900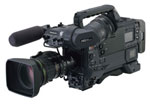 Panasonic Multi-format 1920x1080and 1280/720 line HD Camcorder shooting native 720 or 1080 lines in all frame rates. Very filmic images with the popular Panasonic camera interface and processing. This is Panasonics direct alternative to the Sony HDW-750P HDCAM Camcorder and has enhanced firewire capability,built in cache board and downconverter.

According to Alan Roberts, previously a senior engineer of BBC Research and Development, "The HDX-900 is simply the best HD camcorder available today and outperforms even the Sony HDW-F900/R camcorder for low light performance and lattitude"
---
Sony DVW-790WSP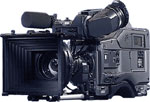 The workhorse of the broadcast television industry. Digital Betacam is the preferred delivery format of many major broadcasters.

Incorporating 2/3 inch Power HAD FIT CCDs and a switchable 16:9 or 4:3 ratio it gives superior picture quality at a reasonable hire rate. Some of the features include assignable set up cards, clear scan, white balance, variable shutter and 4 channel audio recording.

It is quite simply one of the most robust and versatile camcorders available. Supplied with Canon J15 zoom lens and PAG L95 Batteries.
---
Sony DSR-450WSP
The top end DVCAM camcorder, increasingly used as an alternative to Beta SP or when the budget is too tight to shoot on Digital Betacam.

The DVCAM format allows up to 184 minutes recording time and is ideal for events and conferencing. The 2/3 inch CCDs and B4 mount enables the camcorder to be fitted with broadcast lenses that are faster and sharper than professional lenses.

The DSR-450 is switchable and has many features including EZ mode, ClipLink and i.LINK capabilities. Its lightweight construction, ease of operation and low power consumption help to achieve a wide range of field acquisition applications. Supplied with Canon J15 zoom lens and PAG L95 batteries. We are also able to offer this camera with additional SDI out
---
Sony PMW 500 XDCam EX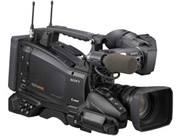 The PMW-500 supports multiple frame rate recording such as 59.94i, 50i, and native 23.98P and 25P as well as being 1080i/720P switchable. There is also a choice of a 50Mb/s High Quality mode, 35Mb/s HDV 1080i compatible mode . Twin memory card slots support up to 280 minutes HD recording time using two 32GB SxS memory cards.
We also offer 64GB cards at additional cost.
---
Sony PXW-FS7 4K

Sony PXW-FS7K (PXWFS7K) 4K Super 35mm Exmor CMOS Sensor XDCAM Camera
with a 35mm Full Frame Powered Zoom Lens, an E Mount Lens System,
4K/2K RAW , XAVC Recording & Mpeg 422 50
Supplied with Vocas base & 2 x 64 GB XQD Cards.
---
GO Pro Hero 4 Black

GoPro's HERO 4 Black is the world's highest performance wearable 4K 30 - 1080p HD video and still photo camera. Professional quality 4K, 2.7K50 1080p / 960p / 720p HD resolutions record at 25, 30 and 50,60 90 120 frames per second.
Record up to 2.5 hours on a single charge. Comes with mounts and 16gb micro SD card
---
Sony PMW-300
An evolution of Sony's industry leading PMW-EX3, the PMW-300K1 is able to record XAVC 10-bit HD422 recordings, including XAVC Intra frame 10-bit HD 422 100 Mbps and XAVC Long GOP 10-bit HD 422 (low bit rate). It also records 50Mbps HD material in MPEG-2 HD422, meeting broadcast standards around the world, including the European Broadcasting Union's (EBU) requirements on HD broadcast acquisition for long form programme making. Standard Definition recording includes DVCAM format and MPEG IMX SD up to 50Mbps.
Supplied with 3 batterys, Charger and Portabrace bag and choice of SYS cards.